Attention Nickerson Elementary Parents and Patrons...Tonight's NICKS Parent meeting has been cancelled. No Rescheduled date has been set yet. Thank you Mr. Gantenbein, Principal - NES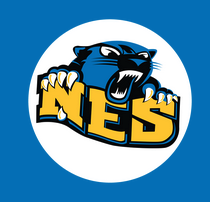 Just a Reminder... Nickerson Elementary Picture Day is on: Wednesday, September 28th... Don't forget to bring your Picture Packets in...if you have not already done so...and Don't forget to bring your smile!!!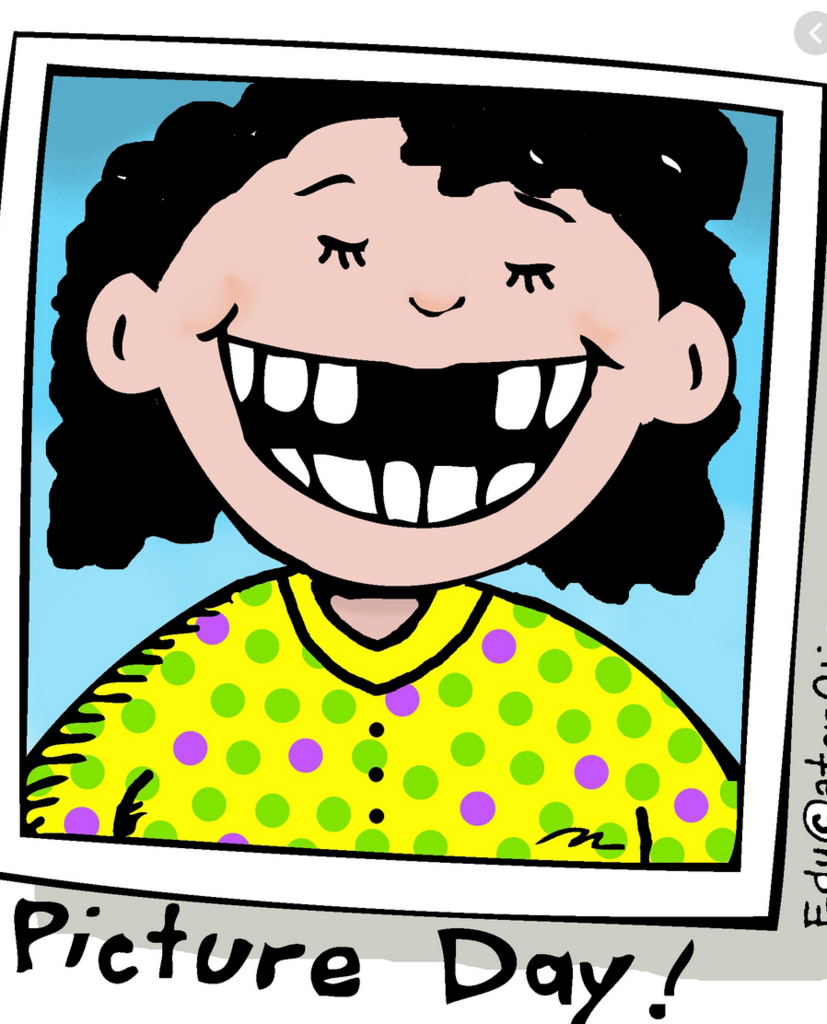 Just a reminder - Early Dismissal - Tomorrow - Thursday, September 15, 2022 - Classes will dismiss at 12:40PM. (There will be NO PRESCHOOL classes) Also, There will be NO SCHOOL on Friday, September 16th - This is a Teacher Inservice Day - Classes will begin again on - Monday, September 19th...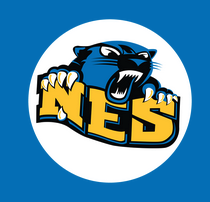 Just a Reminder to our Nickerson Elementary Parents.... Classes will dismiss on: Thursday, September 15th at 12:40PM. Also, There will be No School on: Friday, September 16th - This is a Teacher Inservice Day.
Thank you to all the Families that were able to make it our to our Gambino's Family Night on Tuesday Evening - We appreciate your continued support. We also wanted to give you a reminder that tonight is Packet Night and we put your child's State Fair ticket in their packet - Those should be there tonight...Have a Great Evening...Thank you from Nickerson Elementary...
Tonight is the Night...Gambino's Family Pizza Night - When? - 4-10PM - 10% of all proceeds from Dine-in and Carryout orders...100% of tips during that time frame come back to Nickerson Elementary - So go out and enjoy some Pizza and help your school....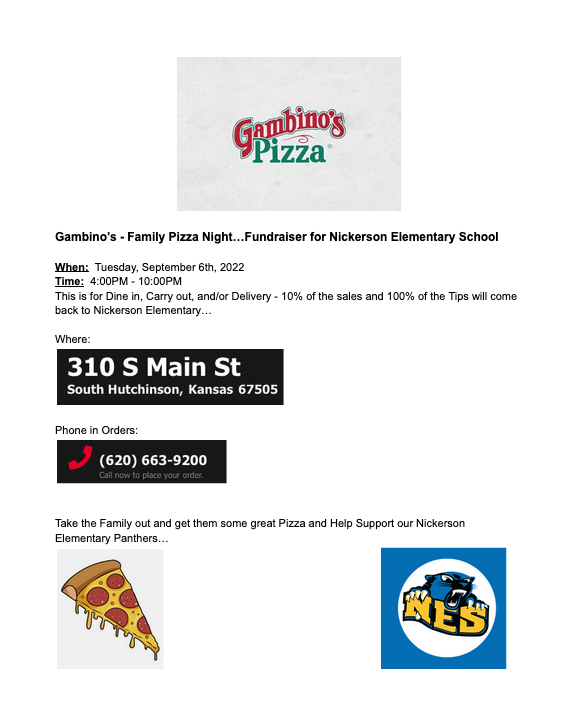 Just a Reminder - The Nickerson Elementary - Gambino's Family Pizza Night is on Tuesday, September 6th from 4 - 10PM... 10% of the Proceeds from call in or dine in orders will come back to Nickerson Elementary and 100% of tips collected in the Nickerson Elementary Jar will also comeback to our School - So Go Out and Enjoy some Pizza!!!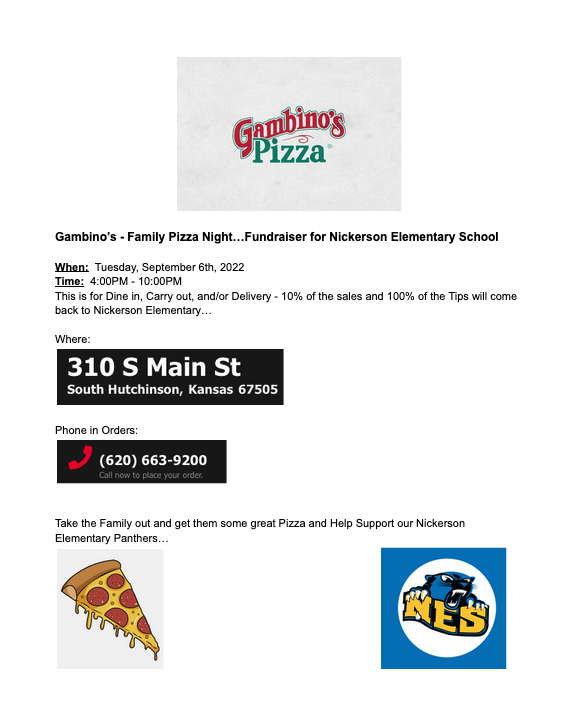 Just a reminder - Our Gambino's Family Pizza Night is just 1 Week away...See the details in the flyer...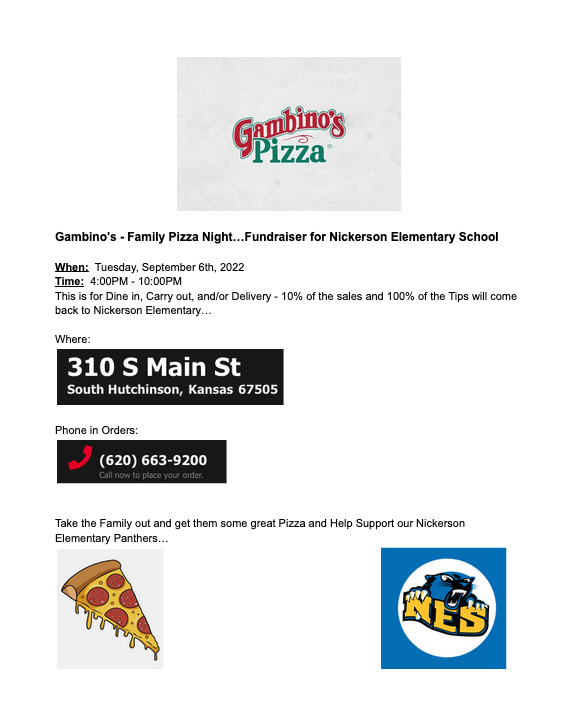 Hello - NES Panther Family - Here are the updated menus for September....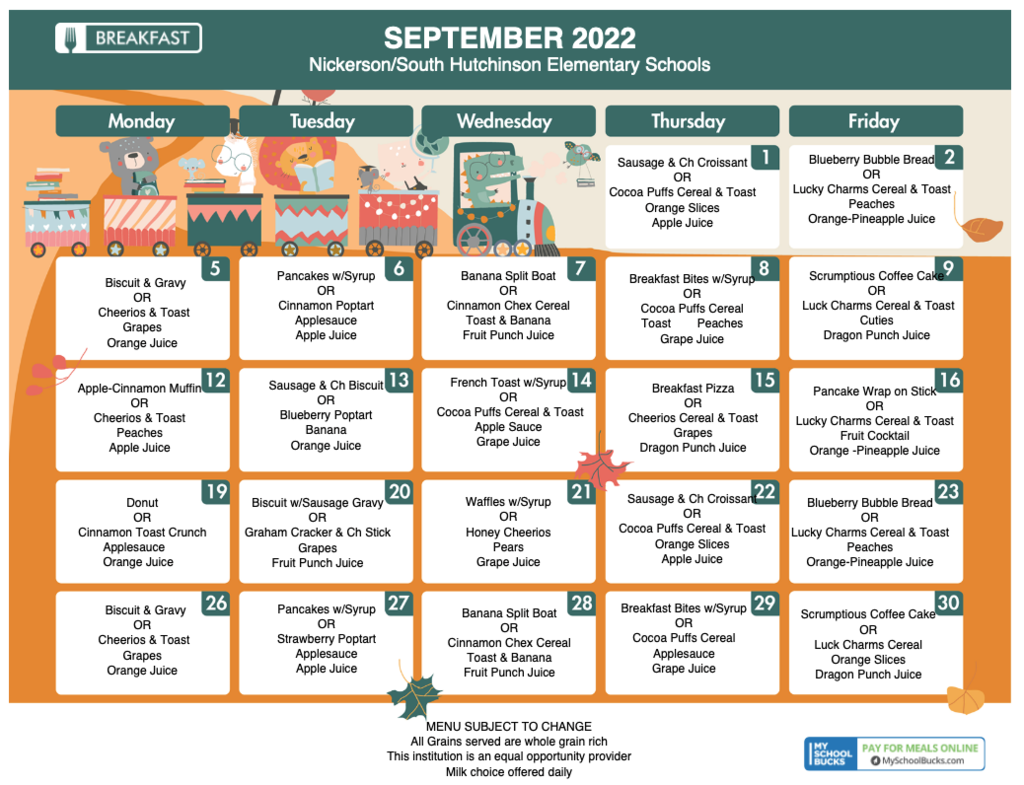 Hi NES Parents... Just a reminder - Today was "Packet Day" at NES...Remember to check your child's packet and collect the notes that come home. This week we had a flyer about an upcoming event at Gambino's Pizza...We will have more information that comes home in packets each week...Have a Great Night!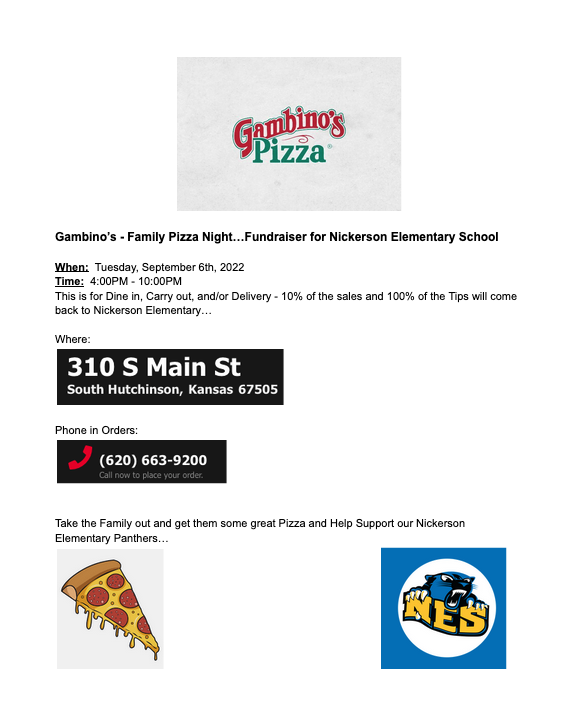 Hello - Nickerson Elementary Parents...An Announcement today regarding "Packet Day" - These packets will come home each Wednesday with notes from school. While we try to communicate regularly via social media - sometimes we have other communication and follow-up that need to come home in "Packets" - Please be sure to take the papers from the packet each Wednesday evening and return the packet the next day...Thank you from Mr. Gantenbein - Principal NES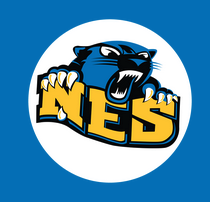 Hello from Nickerson Elementary...A Picture from our Opening Day Assembly...
Just a few announcements: *Doors open at 7:40 at Nickerson Elementary. The first 2 days of school students will report to their classrooms unless they eat breakfast - then they will go to cafeteria and eat breakfast and return to their homeroom. Starting on Wednesday, August 17th - We will have students whether they eat breakfast or not report to the gym to sit with their classes until 8:00AM and then they will be released to their homerooms. Classes are from 8:10 - 3:25PM each day unless otherwise notified. *We would like to Welcome all of our New Staff - Ms. Larmer - Kindergarten / Ms. Millershaski - 3rd grade / Ms. Bland - 4th Grade / Ms. Fox - 5th Grade / Ms. Spear - Vocal Music / Ms. Heibert - Wrap Around / and Ms Wille - NES Para....Returning to NES in a New Position - Ms. Kaufmann - NES Secretary / Ms. Gitchell - NES Para / Ms. Pedersen - Title Math / Ms. Proffer - 3rd Grade / Ms. Schueren - 2nd Grade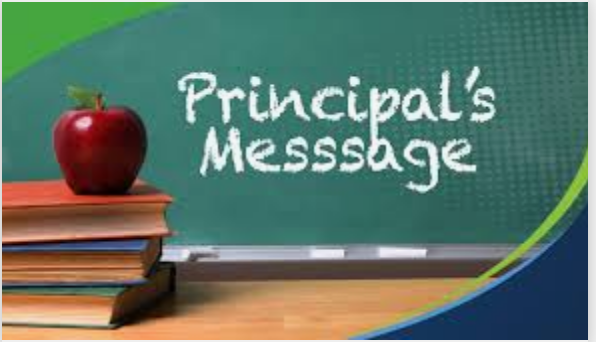 Hello Nickerson Elementary Family!!! - A quick announcement from NES - Our Open House and Meet Your Teacher Night was incorrect on the handout calendars at Enrollment...The Date of this will be on Friday, August 12th from 5:30PM - 7:00PM. You can also bring your school supplies to "Move-In" to your homeroom. Looking forward to meeting all of my new Panther Family!!!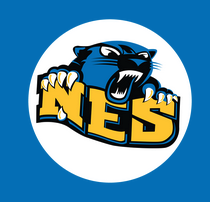 Nickerson - South Hutchinson USD309 Student Registration / Enrollment is now open and available. Please click on the "Enrollment" link in the upper right-hand corner of every webpage. There is also a link on the Parent & Student Page. Either link will take to the proper webpage to register your student for the 2022 - 2023 school year. We look forward to your children attending USD309 this school year.
USD 309 is seeking a bus driver for a regular route. Qualified drivers starting at $18.25 per hour, guaranteed 4 hours a day. Call Roy Lewis at 620-422-319. Apply online
www.usd309ks.org

New Student Lunch Information for the 2022-2023 School Year: During the last two years, pandemic child nutrition waivers have been utilized to provide free meals to all students at school. On March 10, 2022, the U.S. Senate passed the Omnibus Appropriations bill, which did not extend these waivers that expired on June 30, 2022. Therefore, the National School Lunch and School Breakfast Programs will be reinstated for School Year 2022-2023, offering school meals at the paid, reduced, and free rates. Families who believe they may qualify for free or reduced-price meals may complete an Application for Free or Reduced- Price School Meals during the enrollment process for SY 2022-2023. Families who do not qualify for free meals will be responsible for paying for their child(ren's) meals at the reduced or paid rates. The District will continue to provide any added information regarding student meals as it becomes available. Please contact our Food Service Department at 620-663-7141 if you have any additional questions.
USD 309 has an immediate opening for an Assistant Wrestling Coach for the 2022/23 season. Contact Rick Blosser with questions 620-422-3226. Apply online
www.usd309ks.org
or USD 309 4501 West Fourth Hutchinson, KS 67501 EOE
USD 309 has an immediate opening for an Evening Building Custodian with full benefits package. Contact Michael Howell with questions 620-422-3205. Apply online
www.usd309ks.org
or USD 309 4501 West Fourth Hutchinson, KS 67501 EOE
USD 309 has an immediate opening for the following Positions: Food Service Cook Food Service P/T Food Prep Apply online
www.usd309ks.org
or USD 309 4501 West Fourth Hutchinson, KS 67501 EOE